Brain Injury & Tumor Care in Newport Beach, CA
Compassionate Care for Head Trauma Survivors
Settling back into normal life after suffering a Traumatic Brain Injury can be difficult, especially for Elders and Seniors who most frequently suffer head trauma because of an accidental fall in the home. When an Elderly individual has physical limitations from chronic illnesses or old age, it heightens the risk for a fall that can lead to hospitalization and brain damage. Elders may fall because of a wet floor, difficulty getting up or down a staircase, stiff muscles with limited range of motion, or poor balance/coordination issues.
Symptoms of brain injury can create cognitive, physical, and behavioral complications for the individual over the long term. Symptoms may include loss of movement range and control, tremor, poor coordination and balance, impaired attention, judgment, and thought, depression, anxiety, mania, and other symptoms that may gradually get better over time with the help of family members or friends.
At A-1 Home Care, we provide Brain Injury & Tumor Care for Elders and Seniors who are home from the hospital or rehabilitation center and need dedicated living assistance. We provide experienced caregivers, nurse aides, companions, or home helpers for 24 hour Live-In Care or Hourly In Home Care.
If your loved one has a tumor removal surgery for a brain tumor or is undergoing chemotherapy/radiation therapy, our Brain Tumor caregivers and After Surgery caregivers can help your loved one make coping and recovery easier at home.
All of our Brain Injury & Tumor homecare professionals must have prior at home caregiving experience, verifiable professional references, a National Background Check/DMV Check, Tuberculosis testing, Malpractice/Liability insurance, First Ai/dCPR training, and a personal interview with our office staff.
---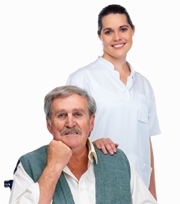 About A-1 Home Care Agency
A-1 Home Care is a Licensed Bonded and Insured non-medical homecare agency that has been a care provider in Newport Beach, CA since 1991 with an A+ Rating from the Better Business Bureau, Shield Accreditation, and memberships with the National Care Planning Council and Chamber of Commerce of Torrance, Santa Fe Springs, Pasadena, and Newport Beach.
We serve the OC communities of Newport Beach, Fountain Valley, Costa Mesa, Huntington Beach, Seal Beach, Los Alamitos, Garden Grove, Villa Park, Buena Park, La Mirada, Irvine, Tustin, Anaheim Hills, Yorba Linda, Brea, Fullerton, and others in Orange County.
If your loved one has long term insurance, we accept Penn Treaty, John Hancock, Bankers' Life & Casualty, Veteran Administration, CALPERS, and MetLife Insurance.
To interview and hire a compassionate caregiver in your area today, CALL us at 949-650-3800 for a FREE in-home assessment.